If you've been considering a franchise, you've come to the right place. i4 Search Group offers a healthcare franchising opportunity that is as lucrative as it is low risk. Proven systems, a hot market for medical jobs, and industry-leading tools make getting into a healthcare staffing franchise a great opportunity if you have a dream of owning your own business without the risks of starting something new.
But can't anyone just open a healthcare recruiting firm? After all, anyone with an internet connection can find talent, right? What is it about healthcare franchising with i4 Search Group that makes our franchisors more successful more quickly than the average healthcare recruiting firm startup? What are the long-term advantages of healthcare franchising with i4 Search Group? We have answers.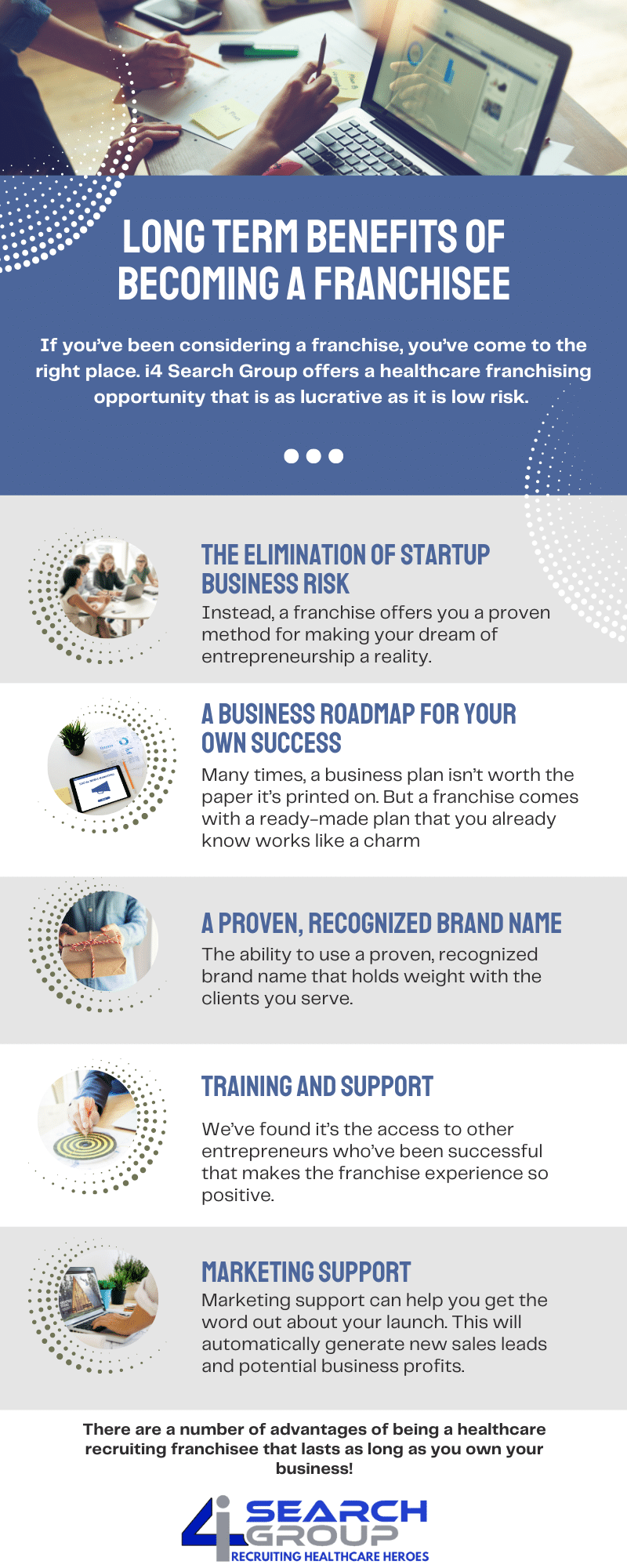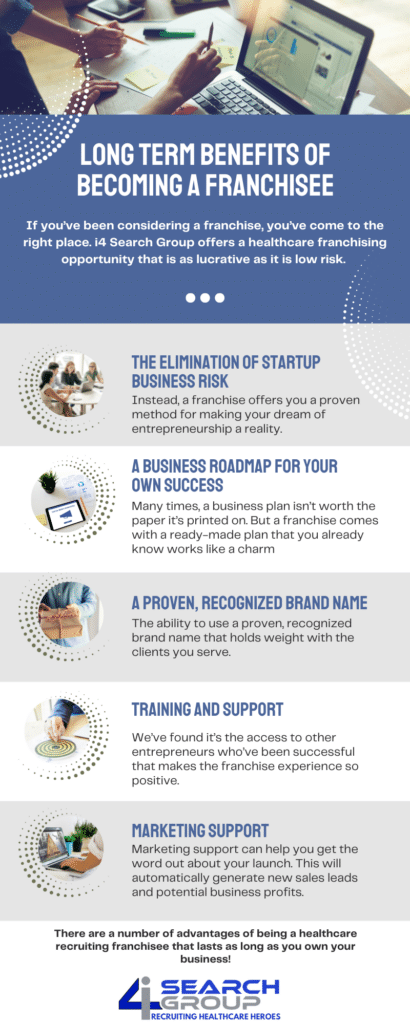 What is a Healthcare Recruiting Franchise?
Let's start with the basics: What is a healthcare recruiting franchise? What does a healthcare staffing company do? A healthcare recruiting company like i4 Search Group supplies healthcare talent to hospitals, nursing homes, urgent care, private practice—and more. While healthcare staffing firms can specialize in particular areas, i4 Search Group offers our clients:
Nurses
Allied Health Professionals
Executives and Administrators
Physicians
Typically, starting a medical staffing company takes significant capital to invest in space and the tools you'll need to manage candidates and healthcare clients. The healthcare staffing industry is incredibly competitive, and the tools you have access will improve your chances of attracting clients and candidates. But when you consider that even one LinkedIn Recruiter seat is around $10,000, you start to understand the high cost of the innovative technology that healthcare staffing requires.
Starting a healthcare recruiting company from the ground up means you have no industry connections, no equipment, and only a trial and error-filled process for figuring out the business. Not only is starting a new business expensive, but the mistakes you might make during the natural process of figuring out a business that works could calso ost you dearly. We believe there is a more efficient way to get into the healthcare staffing business.
Entrepreneurs can avoid the high expenditures of a startup by buying into an established healthcare recruiting firm. This process, known as healthcare franchising, gives you the training, the tools, and the methodologies to make you successful. How does this work?
How Does Healthcare Franchising Work?
If you're looking for the fastest way to attract candidates and healthcare organizations to your new healthcare staffing agency, an i4 Search Group franchise gives you everything you need to be successful. In exchange for the franchise fee, you receive a turnkey business that includes:
Proven workflows, systems, and processes to empower your success.
The latest technology to give you a competitive edge.
A high level of creativity and flexibility in running your own business.
Established territories and proven recruiting strategies.
A database of candidates.
One-on-one corporate and franchisor support.
The biggest difference between owning a healthcare recruiting franchise and starting your own business is that you don't have to figure out what to do to make your business profitable. We already know because we've done it. The leadership team at i4 Search Group has more than 50 years of franchise experience. Buying into our proven model for healthcare staffing also gives you the positive recognition of the i4 Search Group name brand—a reputation that we've been building for years.
With a healthcare recruiting franchise, all of the time you'd spend worrying about how to succeed is eliminated. This means you can focus on one thing—making revenue, pleasing your clients, and taking good care of your healthcare candidates.
What Are the Long-Term Benefits of Owning a Franchise?
We believe there are seven key long-term advantages to owning a franchise. They include:
The elimination of startup business risk. Instead, a franchise offers you a proven method for making your dream of entrepreneurship a reality.
Access to a turnkey business model that gives you a roadmap for your own success. Many times, a business plan isn't worth the paper it's printed on. But a franchise comes with a ready-made plan that you already know works like a charm.
The ability to use a proven, recognized brand name that holds weight with the clients you serve.
Training and support from actual franchisees just like you—but a little further along in the process. Sure, you'll get a training manual, but we've found it's the access to other entrepreneurs who've been successful that makes the franchise experience so positive.
Marketing support can help you get the word out about your launch. This will automatically generate new sales leads and potentially business profits.
A healthcare franchise comes with a ready-made infrastructure. Having access to exclusive software tools and workflow models means you can start your work right out of the gate with no down time spent figuring these things out from scratch.
Ongoing franchise support is also incredibly valuable at all stages in your new company. A healthcare franchise with i4 Search Group gives you ongoing assistance, especially when you need it the most.
One of the biggest barriers to starting your own business is often having the capital necessary to fuel your growth. Franchising offers some benefits in this area in part because what you're buying into is a proven business model. For example, investing in a proven healthcare recruiting system with a track record of placing advanced practice professionals sounds better to most lenders than simply starting a business from scratch. Healthcare franchising offers a way to expand without risk. You'll need less capital under a healthcare staffing model, as well, which is much different than franchising, say, a McDonald's.
Franchising also allows you to avoid the risks of hiring a manager to run the business. The franchisee is the owner of the business, having made a long-term commitment to the success of the business. The pride of ownership is what can create true long-term value in the franchise model and that commitment can permeate the organization to help you hire better employees that also care about the business.
Franchises are generally easier to scale, as well. The value of having a proven system means that little time is wasted figuring out which tools and models are most effective to grow the business. In the case of a healthcare franchising business, you can quickly scale upward because the demand for advanced practice professionals is so high. However, you won't be thwarted by models that aren't as effective as you had hoped. A franchise means you know what works, you have the tools and the training; your job is to put it all to work for you. This increases the chances for increased profitability much earlier than experienced by the traditional from-scratch business model.
Why Is Healthcare Recruiting a Good Franchise to Invest In?
Now that you understand the benefits of franchising, why would you choose a healthcare staffing agency as your target business model to own? The answer is simple: We are in the perfect storm for healthcare staffing:
Healthcare is the

nation's largest employer

.

Healthcare shortages

are predicted for every state in the next five to 10 years.
Doctors and nurses are retiring in record numbers along with the rest of the Baby Boomer population.
Demand for nurses is expected to grow 5% in the next five years;

the data predicts

the need to hire 1.1 million more nurses into the profession by 2026.
All of these labor shortages have been exacerbated by staff burnout during COVID along with increased healthcare demands as the Baby Boomers age. These trends will continue for the next decade and probably longer.
If you're considering a healthcare recruiting franchise, now is the time to jump in with both feet. The demand for healthcare advanced practice professionals is at an all-time high. Each facility you work with will have dozens on medical jobs that need filled quickly. For a healthcare staffing franchise owner there has literally never been a better time to launch into the field.
Who is the Typical Healthcare Franchise Owner?
There is no "typical" healthcare staffing franchise owner, however, we see many franchisees that have always wanted to own their own business but have been afraid of the risk associated with a startup. Many franchise owners are at a crossroads in their careers. They may have been recently laid off and they're looking for the stability of owning something that they can call their own. We often see healthcare franchise owners that make the decision based on the lucrative opportunities that i4 Search Group franchise owners have proven to be real and long-lasting.
Learn More From i4 Search Group Today
There are a number of advantages of being a healthcare recruiting franchisee that lasts as long as you own your business. If you're curious about the opportunities that come with a medical staffing agency franchise, it's time to start the conversation with i4 Search Group. For a no-risk consultation that could literally change your life forever, click here to complete our confidential inquiry to find out more.